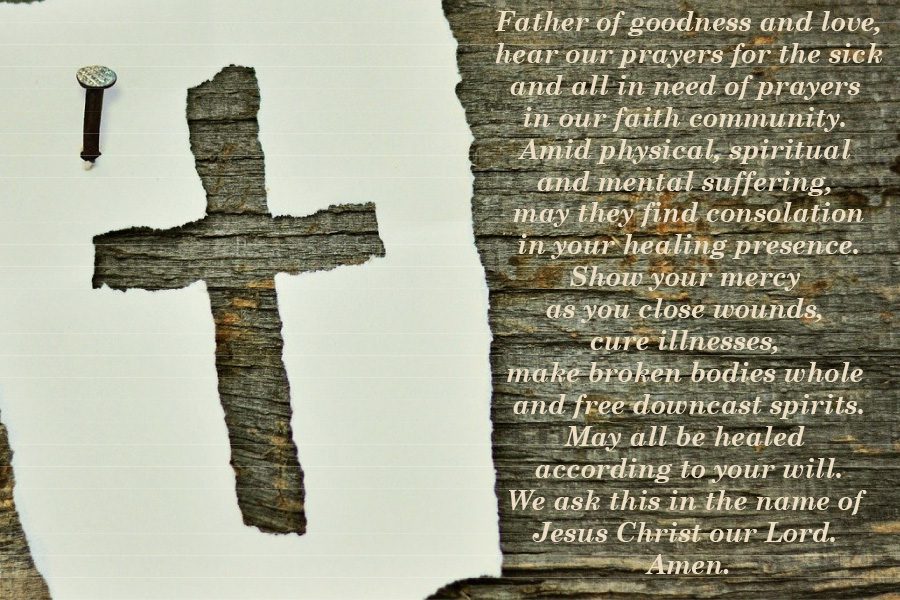 HOLY FAITH PRAYER CORNER WALL
We publish our prayer list in our weekly bulletin.  May our prayers be answered through the intercessions of the Immaculate Heart of Mary who lifts up our prayers immediately to her son Jesus and His Most Sacred Heart of Mercy.
 If your request is to add a name to the prayer list in the bulletin go to: Prayer Request Form.
Click below to add a prayer request to our prayer wall.
You may add your prayer request to our prayer wall using the form below. Once your prayer request is received, we will share it according to your instructions. Feel free to submit as many prayer requests as you like!
A prayer request from one of our parishioners who lost her husband.
Message: My husband and I and our family have belonged to Holy Faith since its construction. Yesterday my husband passed away.
About 10 days ago a Holy Faith priest met with him and administered his last rites. Thank you very much.
Can you please pray for him and let all of Holy Faith know of his passing. Thank you very much.
Dr. Benjamin Eduardo Victorica passed away peacefully at the age of 83 on Saturday, March 28th, 2020 in Gainesville, Florida surrounded by his immediate family. During these difficult times, we cannot arrange a service or funeral so that we can gather and celebrate his life and memory. We welcome all loving thoughts and prayers.
Received: March 29, 2020
I have never asked for prayers before. Our lives are about to be changed forever by the loss of my Dad. Please pray for peace for him and something to help the sadness for the rest of us. Thank you
Received: March 28, 2020
Please God, Save your people!
Received: March 23, 2020
Dear God- Continue to heal Tom B. in spirit, mind and body as he goes thru this illness.
Received: March 17, 2020
As we all know by now, there is a coronavirus outbreak happening all across the globe. Let us all pray for the land to get healed from this virus very effectively and very quickly, everyone that has the coronavirus, the entire medical field that is dealing with this situation, families and friends of the victims, workers from stores and other public places, poor people that cannot feed and provide for themselves, and that everything will end very well very soon. In Jesus almighty name, Amen.
Received: March 16, 2020
Please Pray that I get a job in Housekeeping in the Name of Jesus Christ by the power of God.
Received: March 14, 2020
Please pray for reconciliation between Matt T. And Kelli T. Pray that Jesus will soften Kellis heart for Matt and come back in his direction so both of them can heal their relationship in love and grace. In Jesus name Amen.
Received: March 9, 2020
Loving Father, thank you that your word is powerful and effective, living and active. You have promised that I do not need to be anxious about anything, but in every situation, I should present my requests to God. I lift up my broken relationship before you Lord and ask you to bring restoration and healing. Replace my fear with faith in you. May your peace, which surpasses all understanding, guard my heart and my mind in Christ Jesus. Please give strength and courage to my boyfriend and me Lord so that we can face every challenges in life Have mercy on us Lord. Please allow us to continue on a journey which we have started. Blessed my family, friend and neighbours. Forgive our sins and let your perfect will shall be done on earth as it is in heaven. Through Jesus Christ our Lord, Amen.
Thank you for praying for me and my love one!
Received: March 9, 2020
Praying the blood of Jesus, Gods protection and favor upon Leland. Praying he is surrounded by Godly mentors and friends. Praying for positive breakthroughs and blessings upon his life. Let no weapons formed against him prosper. God is Able!
Received: March 2, 2020
holy souls in purgatory
Received: February 26, 2020