HOLY FAITH THIRD SUNDAY OF EVERY MONTH


CATHOLIC CHARITIES FOOD DRIVE

NEXT FOOD DRIVE: SUNDAY, JANUARY (16-17) 2021
Monthly, the Catholic Charities Van will be parked in front of the Church for drive up/drop-off service, with teen and adult volunteers available to help with your donations or drop-off inside the big box in the vestibule of the church.
SATURDAY, January 16 from 4:45pm to 6:15pm and
SUNDAY, January 17 from 9:15am to 12:15pm.
Holy Faith has teamed up with Catholic Charities to help fill the food pantry shelves every third Sunday of every month. This is a time when the supply dwindles and there's not always enough for all in need. Although donations are accepted all month long, this is an extra push to keep the food shelves well stocked. Holy Faith has always supported the work of Catholic Charities doing what our church envisions: "to build together a Community of Compassion in Christ". Thank you for your loving and giving hearts. May God bless you always.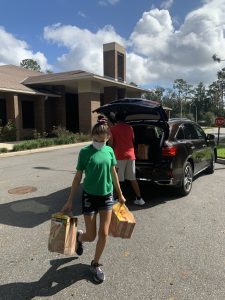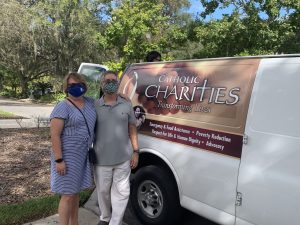 We had a wonderful response to our 3rd Sunday Catholic Charities Food Drive on September 19-20 with over 1000lbs of food donated! Let's make this our monthly goal. Catholic Charities is so grateful for the support of our community. We continue to support the pantry of Catholic Charities weekly, as always, by placing donations in the big box in the vestibule of the church, but mark your calendars specifically for the 3rd Sunday of every month (next drive:

January 16-17, 2021

). This is our extra outreach food drive Sunday with the goal of keeping the shelves full for the end of the month, when the supplies seem to dwindle but the need remains. May God Bless you in abundance as you Bless others.  Thank you again!
Now this I say, he who sows sparingly will also reap sparingly, and he who sows bountifully will also reap bountifully. Each one must do just as he has purposed in his heart, not grudgingly or under compulsion, for God loves a cheerful giver. And God is able to make all grace abound to you, so that always having all sufficiency in everything, you may have an abundance for every good deed …

2 Corinthians 9:6-8
Mark D, parishioner of Holy Faith, is a board member of Catholic Charities. Below  is the recorded message for all of us from the 3rd Sunday Holy Faith Food Drive kick-off event in September. The appeal continues every 3rd Sunday of the  Month.
Click on video below.