A Vision for Adult Faith Formation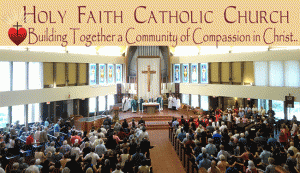 Welcome!  Adults are the rock that supports the vision and mission of Jesus Christ on Earth and our vision at Holy Faith of "Building Together a Community of Compassion in Christ"; the bridge between youthful hope and the wisdom of our elders.  We strengthen the presence of the living Christ and His Kingdom by example, prayer and service. Let us celebrate the person of Jesus in the power of the Holy Spirit that abides in us.  In following the Lord's command to "Go and make disciples", our aim is to provide a comprehensive program that will facilitate and enrich the spiritual life of the parish by guiding members to a closer walk with the Lord.
At Holy Faith we are "Catholics on the Move" ready to experience and share in the opportunities and "encounters" provided through the Adult Faith Formation Program.