Music and the Liturgical Year
Music for our Sunday celebrations and our Sacraments and Rites changes throughout the year according to the Liturgical Seasons: Advent, Christmas, Lent, Easter, Ordinary Time and feasts of the Saints. The responses and acclamations are changed in order to reflect the current season. This allows us to immerse ourselves in the many rich dimensions of the Paschal Mystery as the Church Liturgical calendar changes.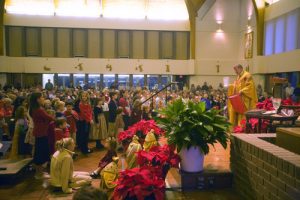 The music for the Eucharistic celebrations at Holy Faith is planned specifically for each Sunday as well. Every week a liturgical planning team meets consisting of the Pastor, Associate Pastor, the Deacon, the Director of Religious Education (who directs our Catechists), Liturgy Director and the Music Director. This team reflects on the scriptures for the coming Sunday and this reflection is then used to prepare the homily, music and catechism of our children.