Confirmation
What is the Sacrament of Confirmation?
The Sacrament of Confirmation, like Baptism, also imprints the Christian with the "character" as the sign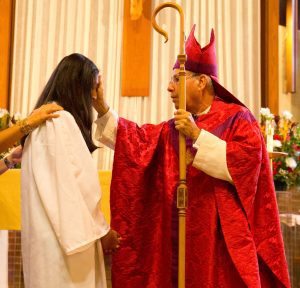 of the mark of Jesus Christ, now with the seal of his Spirit to strengthen the person to be a Christian witness.  By this sacrament, our common priesthood is perfected, and our bond with the Church is enriched with a special strength of the Holy Spirit.  As true witnesses of Christ, we become more strictly obliged to spread and defend the faith by word and deed. (CCC: #1295-1301)
The sign of the sacrament of Confirmation is the anointing with the Sacred Chrism Oil.  In the Latin Rite of the Roman Catholic Church, the ordinary minister of this sacrament is the Bishop. In extraordinary circumstances (e.g. baptism of anyone older than 7 years of age), the Bishop gives permission for the Pastor or a Priest to administer the sacrament.  The age of Confirmation is determined by the local Bishop in each diocese, and therefore the age may vary from diocese to diocese.
Read More: Catechism of the Catholic Church (1285-1305)
Confirmation at Holy Faith Catholic Church