Click on the COTM logo for currently scheduled opportunities with our 
Catholics on the Move Community.
April 2019 … Catholics on the Move is not a ministry! We all belong to this movement. It is, in simple terms, an adult faith formation experience at Holy Faith Catholic Church designed for adults.
During the year there will be encounters/opportunities for Catholics and friends to gather in fellowship to witness our Catholic faith in community in many ways, of course including Scripture, Sacraments and prayer, as well as fun.  –Read more–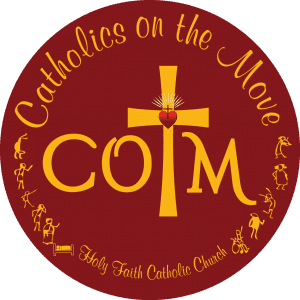 For information about Small Christian Communities and to Sign-Up go to:  SCC