Click on the COTM logo for currently scheduled opportunities with our 
Catholics on the Move Community.
March 16, 2019 … Come "EAT, DANCE & BE IRISH" at  our 3rd annual St. Patrick's Day Celebration at Holy Faith. This a a Potluck gathering so bring your favorite dish to share and enjoy some church family fellowship. Wear your green and bring your dancing shoes. This is a family-friendly event so bring the kids. We will provide babysitting for younger children upon request (please notify us in advance).
This year we welcome and will be entertained by the Ailigéadar Irish Dance Company from UF.
Everyone, Irish or not are invited! Hope to see you there. Potluck event starts at 6:30pm in the Family Life Center of Holy Faith. This is a Catholics on the Move event hosted by our Young Adult Ministry.
Please R.S.V.P. by clicking on the logo. It is not mandatory to bring a dish to share. There will be enough food for everyone. Please join us. St. Patrick, pray for us!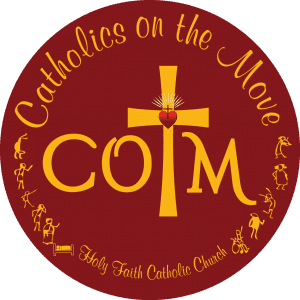 For information about Small Christian Communities and to Sign-Up go to:  SCC