Click on the COTM logo for currently scheduled opportunities with our 
Catholics on the Move Community.
NOVEMBER 3, 2018 … Come Celebrate, Honor, and pay Tribute to all Military people in our parish, share a potluck meal and some church family fellowship all while doing so. Our guests are people who sacrifice their lives, as well as their family life, for our Country and for you and for me.
Everyone, military or not, come and show your love and support! Hope to see you there. Potluck event starts at 6:30pm in the Family Life Center of Holy Faith. This is a Catholics on the Move event.
Please R.S.V.P. by clicking on the logo. It is not mandatory to bring a dish to share. There will be enough food for everyone. Please join us. God Bless you and God Bless America!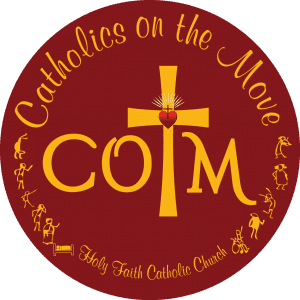 For information about Small Christian Communities and to Sign-Up go to:  SCC