Father John M. Phillips
In Memorium: November 25, 1955-October 20, 2019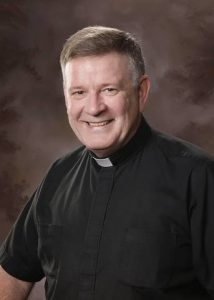 Fr. John was everything he says in the paragraph below. He was a true Pastor, a Shepherd to all at Holy Faith and beyond. He served with love and compassion and will never be forgotten. May he rest in Peace.
"One of my most important roles as both Priest and Pastor is to be a guide to others in the Catholic Spiritual Journey which we share together.
'You and every one of us is called to follow Christ and journey with his Church in the challenging adventure of Gods way of love. Our parish of Holy Faith shares the resources of Christ and his Catholic Church to help us make this journey at every stage of our lives. I hope to be of service to you and with you on this journey of a lifetime."
Biography
Milestones of my Life and Spiritual Journey
Born November 25, 1955
Baptized as a Teen and Conversion 1969
Deeper Conversion in the Holy Spirit circa 1971
Began attending Episcopal Church 1973
Entered University of Florida 1975
Began attending Catholic prayer Meeting 1976
Entered the Catholic Church 1978
Entered Seminary 1982
Ordained May 16, 1987
Assigned Associate Pastor at Christ the King Parish (Jax) 198
 Assigned Associate Pastor at St. Augustine Parish (Gainesville) 1990
Assigned as Pastor of Holy Faith 2002
Served the Parish of Holy Faith for 17 years until his death on October 20, 2019
My Beginnings
I was born on November 25, 1955, the first born son of Jack and Patti Phillips. I was born in Birmingham, Alabama, where my parents were born and raised. They were high school sweet hearts and married young. Even though Birmingham is not close to any ocean, my Dad joined the Navy and made the Navy his career.
My father was stationed first in Norfolk, Virginia, where my brother Brian was born. When I was 7 years old, my father was stationed in Jacksonville where my sister Sheri would eventually be born. From age 7, with the exception of one year, I have lived in Florida.
I was a good student in school. I love to learn, to read, to explore the world of ideas. I enjoyed school and friends, and I would get in trouble mostly for talking too much in class (it was a more innocent time). All this usually indicates a possible profession of teaching, but growing up I really didnt know what I wanted to be. At one point in high school I got the unusual idea that I might want to serve in the country's Diplomatic Corpsuntil. I found out it involved a lot of moving, and I discovered being in a Navy family that I never enjoyed moving the few times we were stationed to a new place to live.
I do believe that God had (and has) a plan for my life; but looking back, how could I have known in my youth that I would eventually be called to become a priest when I wasn't even a Catholic then!? I've heard it said that God usually gives us enough light and direction to see the next step in our lives, but rarely the whole plan, especially years down the road.
In this regard, about our limited vision on the journey of life, I would read many years later something the great monk Thomas Merton wrote:
My Lord God I have no idea where I am going.
I do not see the road ahead of me.
I cannot know for certain where it will end.
Nor do I really know myself,
and the fact that I think I am following your will
does not mean that I am actually doing so.
But I believe that my desire to please you does in fact please you.
And I hope that I have that desire in all that I am doing.
I hope that I will never do anything apart from that desire.
And I know that if I do this you will lead me by the right road
though I may know nothing about it.
Therefore will I trust you always
though I may seem to be lost and in the shadow of death.
I will not fear, for you are ever with me,
and you will never leave me to face my perils alone.
Baptized as a Teen and Conversion
Regarding my spiritual journey, I wasn't taken to church as a child. My family was Methodist during my childhood and teen years (some years later my mother would become Catholic after I did and my father was an adopted Catholic, i.e., he didn't become a Catholic but attended Catholic Church with my mother).
I was taught some prayers as a child. At night I was taught to pray: Now I lay me down to sleep, I pray the Lord my soul to keep. Keep me through the starry night; wake me up at sunshine bright. God bless Mommy, and Daddy, [and etc.] My family did pray a blessing before the meals. Though I had little religious training as a child, I had some simple belief in God, especially if I got into trouble or to avert trouble; I knew to pray and promise God better behavior if he'd only help me. Years later I would read something Fr. John Shea wrote capturing this inborn instinct to pray for Gods help in crisis:
The Last Prayer of Petition Ever
(Written between New York and Chicago 35,000 feet up)
Sigmund Freud has put me wise
that God is merely the me
afraid to face the exploding crash of a 747
from the inside.
Also it is common knowledge
that doctors reserve the back wards
for people who daddy God for daily bread.
Of course theologians, always the last to know,
keep asking for little red wagons
while everyone else is buying them at Sears…
So it is
I wonder who was addressed
when in the sudden drop of an air pocket
my heart relocated to the space behind my teeth
and someone sitting in my seat screamed,
O my God don't let the plane fall!
(From The Hour of the Unexpected, p.18)
When I was 14 years old my mother was inspired for some reason to start taking me, my brother and sister to church. My father stayed home. I was baptized at the time (having not been baptized as an infant), so that I would be a member of the church. It was just the thing to do. I didn't really know much about Christ at all; but looking back, I realize my heart and life were being prepared by the Holy Spirit, the Helper who we receive in our Baptism, to begin a totally new journey in my life because something happened not long after that.
At my Methodist Church, a visiting Methodist youth group came and shared their personal stories about how they had a personal relationship with Jesus. It was the first time I had heard other teens talk seriously about Jesus, as if you could know him personally and that he could make a difference in ones life. We had an old-fashioned altar call that Sunday (not a typical Methodist practice) where one goes up to the front of the church and thereby publicly demonstrates that one is accepting Christ and committing ones life to him. I and many other youth and others made such a public commitment that Sunday.
This was the start of my journey following Jesus; and fortunately, since other teens in our youth group had also begun following Jesus, I had a peer group, a community of other young disciples, to help me live the Christian life. From the first moment of this conversion, I can look back and see how important community is in following Jesus. At this time of my life I began praying to God by way of conversation with him, and I began to read the Bible and it started to be meaningful to me.
I must mention another important relationship in my life, which would be so influential for my life. I had my first serious girlfriend, also one of the members of my Methodist youth group. She was a very artistic, musical, creative and talented young woman. She opened up my soul to poetry and art, beauty and religious writings in addition to the Scriptures. She gave me an appreciation of these gifts from God, and it was at this time of my life that I discovered a gift for writing (to her, at first). Eventually her family moved, as did mine, and we lost touch, but she was my beginning muse. Her artistic spirit was also preparing me to become a Catholic, though I didn't know it till later.
To be continued…