Click here for the most current schedule of opportunities to explore and meditate on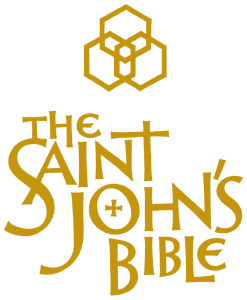 SJB Coming to Holy Faith Parish
SJB ONLINE
EXHIBIT
SJB VIDEO
SJB EVENTS
The Heritage Edition of the Saint John's Bible will be at Holy Faith from November 9, 2017 thru January 7, 2018. It is an honor and a privilege to share this amazing historical Bible with the Parish. The Saint John's Bible is the first handwritten illuminated Bible in 500 years, and it was commissioned by the St. John's Benedictine Monastery, in Collegeville, Minnesota.
 The mission of the SJB: "To ignite the spiritual imagination of people around the world of all faith journeys." Take a moment to enjoy some of the pages of this Illuminated Bible and be sure to visit Holy Faith Parish for the many opportunities to see, touch and feel this exquisite version first hand.
To begin our Saint's John's Bible Journey at Holy Faith, upon arrival on the evening of November 9, 2017, we will have Vespers in the Parish Life Center at 5pm followed by a presentation of the SJB in Spanish. On Sunday, November 12 join us after any of the Masses for Prayer and a Guided Display of the SJB inside the Church. Stay tuned for more events with the SJB to be announced in our bulletin, online and thru the Holy Faith Church app.