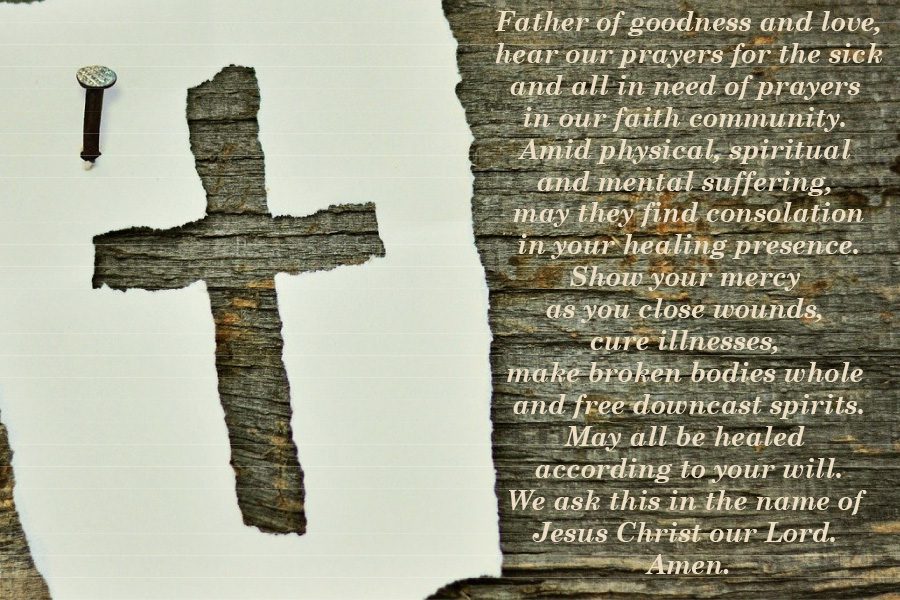 HOLY FAITH PRAYER CORNER WALL
We publish our prayer list in our weekly bulletin.  May our prayers be answered through the intercessions of the Immaculate Heart of Mary who lifts up our prayers immediately to her son Jesus and His Most Sacred Heart of Mercy.
 If your request is to add a name to the prayer list in the bulletin go to: Prayer Request Form.
Click below to add a prayer request to our prayer wall.
You may add your prayer request to our prayer wall using the form below. Once your prayer request is received, we will share it according to your instructions. Feel free to submit as many prayer requests as you like!
Dear Lord,
I would like to pray for help on getting a job since my employer is laying us off permanently at the end of the month of May. I don't know how can I pay for my financial responsibilities and health insurance. I need your assistance since I cannot do it on my own.Please help me to get job interviews and a good job with good benefits, pay and good manager. I pray that as seek out effective employment, that I will speak only as you lead and nothing shall be on my own. Let my conversation be always full of grace, seasoned with salt, so that you may know how to answer everyone.Lord, this day You know my needs, You know my struggles, You know the crisis I face each day and you are not a God of confusion but a God who hears and answers
Received: May 13, 2020
I need God to bless me and my husband Christian our unemployment benefits money to come through and we be approved.
Received: May 5, 2020
Please pray for the safe and speedy return home from Baghdad for our son in law Chris who has been on a special duty assignment there for over one year.
Received: May 5, 2020
Heavenly father forgive all our sins me-husband-daughter. Shower YOUR blessings of grace-mercy- knowledge-wisdom-good health-protection-peace-love-joy on my daughter. Touch-heal her mind-body-soul completely. Provide all her needs. Help her in study-exam – guide her. THANK YOU father for YOUR mercy-grace on me. Touch- heal my mind-body-soul. Provide me best job in YOUR name. Destroy all evil plans against us. Protect us from all evil-illness-infection. THANK YOU for everything. IJN Amen
Received: April 29, 2020
Please pray for my husband James the he would put the Lord first and listen to Jesus. That he would put the Lord first in our finances and honor our marriage.Pray that the Lord, would bless my husband's work. that he would be diligent and prosperous and given favor both with the Lord and man. That he would be the head and not the tail. That everything he does prospers. Pray that he would have a heart of gratitude and remove the spirit of apathy. Pray that no weapon formed against us would prosper. That the Lord would give him wisdom knowledge and discernment. Pray that the Lord would give him strength to walk into opportunities he provides. That the Lord, would infuse his character with courage for daily decisions and heal the past wounds of my husband's heart. Pray the Lord would guide my husband as the leader of our home.help my husband's parenting to reflect Jesus Christ to our children. May his leadership skills be empowered by the mind of Jesus Christ. Pray the Lord would keep my husband healthy and lead my husbands hand and heart in our relationship, his work, our home, community and church. Also please pray a guard over his heart, mouth and mind,Jesus. Also to protect him from temptation and to be filled with the Holy Spirit. Lastly pray for him to have encouraging and godly friendships. Break any soul ties or relationships that are not from the Lord. In Jesus Name Amen.
Received: April 22, 2020
Dearest Lord,
Please help my Brother Matthew who is a nurse who got contacted with COVID19 and right now cannot breathe and is coughing blood. I pray for healing and strength also to able to equipt the Doctors and medical professionals to help him and get the necessary medications and ways to help him get better from this virus. I pray please Lord Jesus please have mercy and take care of my brother to and the will to fight for his life and for the sake of his family. I pray please Lord heal us and be our refuge because we hold on to you in this time of crisis. These I pray for in the name of Jesus Our Lord and Savior.
Amen
Received: April 8, 2020
Prayer request: Gracious God. We love you. You are the center of our joy and the strength of our lives. We pray that you will bring men and women to a place of repentance and forgive our sins. We ask that you surround our president with Godly council and that all elected officials and world leaders will have wise counsel and have a heart for God. We ask that you will forgive the sins of our land and heal our land. Have mercy on us all. Grant us your peace and direction. We pray for revival in our hearts and churches. We pray for the peace of Jerusalem and healing for all of those affected by the corona virus. Lord in your loving kindness and tender mercies hear our prayers and let your will be done on earth as it is in heaven. We give you glory for moving by your spirit and answering our prayers. In Jesus' name, amen.
Received: April 5, 2020
I need god to bless me with my unemployment benefits money to come through
Received: April 4, 2020
I need money to pay my bills and my rent
Received: April 1, 2020
My son Jose Carlos, RIP. He was involved in a fatal car accident. They tried all they could. Tthey couldn't resuscitate him. God knew. His body was too broken..
We offer our prayers for Jose Carlos. May he rest in God's eternal peace, and we extend our condolances to his mom, our parishioner and her family. (Holy Faith Priests and Staff)
Received: March 29, 2020