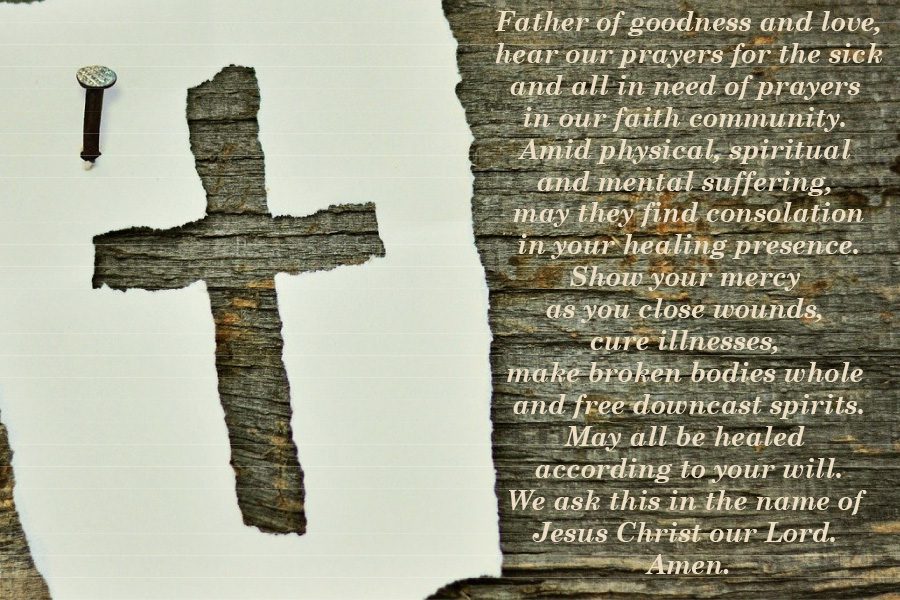 HOLY FAITH PRAYER CORNER WALL
We publish our prayer list in our weekly bulletin.  May our prayers be answered through the intercessions of the Immaculate Heart of Mary who lifts up our prayers immediately to her son Jesus and His Most Sacred Heart of Mercy.
 If your request is to add a name to the prayer list in the bulletin go to: Prayer Request Form.
Click below to add a prayer request to our prayer wall.
You may add your prayer request to our prayer wall using the form below. Once your prayer request is received, we will share it according to your instructions. Feel free to submit as many prayer requests as you like!
Please pray for Eric McD. Please pray for Eric's conversion and salvation.
Eric needs Jesus.
Please pray God to open Eric's heart to see his needs for Jesus.
Please pray for Eric's miracle!
Received: July 21, 2020
Prayer Request for Robby
For Robby to come back home to the Catholic Church. This clean cut young man has lost his way and fallen into the wrong hands very dangerous for his soul just like the prodigal son. Please help us pray for his return and back into safe arms.
Thank you so much for your help!
Received: June 25, 2020
Prayer Request for Mother and Wedding
For my "Cinderella" wedding to finally come to fruition. May God heal the wounds of my real life Prince Charming so we can finally make it to the altar and give light to our family and friends who need it so badly especially now because of the passing of our beautiful mother recently.
This special young man was given to me as a gift from above when I was going through the darkest moments…he was the light sent to pierce the darkness. So I want to share this light with my beautiful family and friends and our grieving father especially.
After my mothers passing a beautiful Christmas gift was given regarding this prayer request. May God help it to come to fruition and of course most importantly for prayers for the precious mother we lost…may she never be forgotten in all of this…we love her so and miss her terribly…
Received: June 24, 2020
Please pray for me (Raajiv) that I may be able to get back my doctor internship job which I had lost due to illness as soon as possible. Thank you very much for praying for me.
Received: June 4, 2020
Asking God for a miracle so that my grandma Lyudmila is cured of cancer and also asking God for help so that she is placed into a nursing facility where she can get the help she needs.
Received: May 14, 2020
Dear Lord,
I would like to pray for help on getting a job since my employer is laying us off permanently at the end of the month of May. I don't know how can I pay for my financial responsibilities and health insurance. I need your assistance since I cannot do it on my own.Please help me to get job interviews and a good job with good benefits, pay and good manager. I pray that as seek out effective employment, that I will speak only as you lead and nothing shall be on my own. Let my conversation be always full of grace, seasoned with salt, so that you may know how to answer everyone.Lord, this day You know my needs, You know my struggles, You know the crisis I face each day and you are not a God of confusion but a God who hears and answers
Received: May 13, 2020
I need God to bless me and my husband Christian our unemployment benefits money to come through and we be approved.
Received: May 5, 2020
Please pray for the safe and speedy return home from Baghdad for our son in law Chris who has been on a special duty assignment there for over one year.
Received: May 5, 2020
Heavenly father forgive all our sins me-husband-daughter. Shower YOUR blessings of grace-mercy- knowledge-wisdom-good health-protection-peace-love-joy on my daughter. Touch-heal her mind-body-soul completely. Provide all her needs. Help her in study-exam – guide her. THANK YOU father for YOUR mercy-grace on me. Touch- heal my mind-body-soul. Provide me best job in YOUR name. Destroy all evil plans against us. Protect us from all evil-illness-infection. THANK YOU for everything. IJN Amen
Received: April 29, 2020
Please pray for my husband James the he would put the Lord first and listen to Jesus. That he would put the Lord first in our finances and honor our marriage.Pray that the Lord, would bless my husband's work. that he would be diligent and prosperous and given favor both with the Lord and man. That he would be the head and not the tail. That everything he does prospers. Pray that he would have a heart of gratitude and remove the spirit of apathy. Pray that no weapon formed against us would prosper. That the Lord would give him wisdom knowledge and discernment. Pray that the Lord would give him strength to walk into opportunities he provides. That the Lord, would infuse his character with courage for daily decisions and heal the past wounds of my husband's heart. Pray the Lord would guide my husband as the leader of our home.help my husband's parenting to reflect Jesus Christ to our children. May his leadership skills be empowered by the mind of Jesus Christ. Pray the Lord would keep my husband healthy and lead my husbands hand and heart in our relationship, his work, our home, community and church. Also please pray a guard over his heart, mouth and mind,Jesus. Also to protect him from temptation and to be filled with the Holy Spirit. Lastly pray for him to have encouraging and godly friendships. Break any soul ties or relationships that are not from the Lord. In Jesus Name Amen.
Received: April 22, 2020