Sign-Up and Pray with us!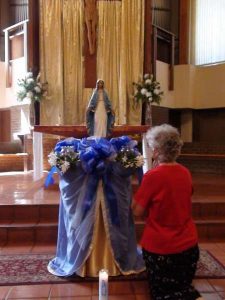 Living Rosary 2019 … October 7 at 6:00pm.
We pray a  "Living Rosary" in honor of the Feast Day of Our Lady of the Most Holy Rosary, October 7th annually.  We begin at 6pm with the singing of the "Ave Maria" for all to enjoy. The Living Rosary will begin at 6:15pm and end by 7:30pm.  Beads are asked to be there at 5:30pm for instruction and set-up. We need prayer partners!
… Sign up to be a bead below!
This is communal experience of prayer as each bead is represented by an individual and many Hail Mary's and Our Father's are prayed in the native language of the person praying. Come & Pray for the intercession of the Mother of God and our Mother. 
Complete form below:
Check out the video from a past Living Rosary event: