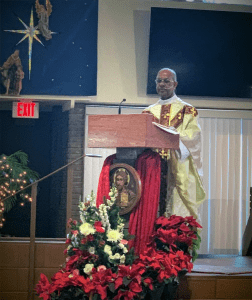 To listen to and read along the Christmas
message from our Pastor, Fr. Emmanuel, click on the audio link.
Dear Parish family,
I am very happy to wish you all my Prayerful Greetings as we enter the Christmas Season.  The story of the birth of our Savior Jesus Christ is a reminder to us all that God came to live among us, to be close to us, and to save us from our sins.  Jesus gave us himself as a gift to us. It is a story that still rings true today.  Even in the midst of a pandemic where we need to keep our distance from each other, Jesus is with us.  He is close to us because he lives in our hearts where he continues to be a gift to us.  Jesus does not keep us at a distance from Him.  Because of His presence in each one of us, we are also present and connected to one another.
As we celebrate the Nativity of Jesus, we remain eternally grateful to God for all the blessings, especially for the gifts of life, family, faith community, friends and neighbors.  I take this opportunity to thank you most sincerely as you have been such a blessing to our parish by being active and supporting us with your gifts of time, talents and timely financial help.  My special gratitude goes to all the volunteers in our different ministries who do such a wonderful job in serving the various needs of our parish with much enthusiasm and commitment.  I hope and pray that you will have a wonderful and blessed time during this Christmas Season.  Together with Fr. Anthony, Fr. Clyde, Deacon Mike, and our staff members, I wish you all a blessed Merry Christmas and a Happy New Year. May God bless you abundantly during this Christmas Season as well as during the New Year.  Merry Christmas!
Now let us pray for God's Blessings:
God, our Creator, we pray for joy in our hearts, hope in our God, love to forgive, and peace upon the earth.  We ask for the salvation of all our family members and friends, and we pray for your blessings on all people.
Lord, fill us with the wonder of Blessed Virgin Mary, the obedience of St. Joseph, the song and the joy of the angels, the eagerness and gladness of the shepherds, the determination and the worship of the magi, and the peace of infant Jesus in the Manger.  
I pray for all the families of our Parish, your loved ones, especially in this season of Christmas.  Almighty God, Father, Son and Holy Spirit bless you all now and forever. Amen
With love and prayers,
Fr. Emmanuel CMI,
Pastor