Fr. Clyde Salitrero, O.Carm, Parochial Vicar
Fr. Clyde  Salitrero, a member of the Order of Carmelites, Philippine Province, was assigned as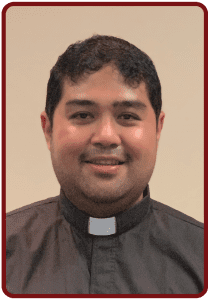 second Parochial Vicar of Holy Faith in April of 2019, by Bishop Felipe Estévez.
Fr. Clyde was born on April 3, 1979. He comes from Tubigon, Bohol, Philippines.
He entered the seminary in 1996, and took his First Profession of Religious Vows in 2006, and Final (Perpetual) Vows in 2010. He was ordained to the Priesthood on November 9, 2011.
Fr. Clyde's last assignment in the Philippines was as a Chaplain of Perpetual Succour Hospital in Cebu City for three years.
In addition to assisting with the pastoral care of our parish,  Fr. Clyde also ministers to the Filipino community of Gainesville who belong to the four parishes of our city.
We are blessed to have Fr. Clyde with us.
Contact Fr. Clyde