Rev. Anthony Bonela, MSFS, Parochial Vicar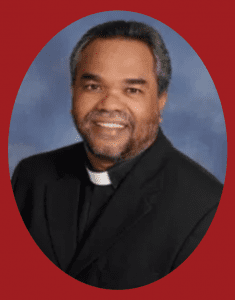 Fr. Anthony Bonela, MSFS was appointed Parochial Vicar at Holy Faith Parish by Bishop Felipe Estévez, effective July 1 2020. Our community is thankful and blessed to have Fr. Anthony with us and we welcome him with open arms. Fr. Anthony belongs to a Religious Order: MSFS (Missionaries of St. Francis De Sales of Fransalians) a French International Religious Order.
Father was born in Markondaputti, AP, India on August 13 1969 to (the late)Luckasu Bonela and Nakshathramma Bonela, and has a brother and a sister. He entered the seminary on June 16, 1985 and received his first vows on July 16 1988 and final vows on June 10 1995 and ordained to the Diaconate on January 26 1996.
Father Anthony was ordained to the priesthood on February 25 1997.
Educational qualifications: M.A,B Ed. BA, B. Ph. in Philosophy, B. Th in Theology
Ministry in India:
Pastor, Teacher and Principal from 1997 to 2002
Prinicpal of a High School from 2002 to 2006
Ministry in USA:
Parochial Vicar at St. Joseph Parish, Jacksonville, from 2006 to 2011
Parochial Vicar at St. Paul Parish, Jacksonville, from 2011 to 2013
Pastor at Holy Spirit, Jacksonville, from 2013 to 2017
Pastor in India, from 2017 to 2018
Pastor in San Antonio Diocese from 2018 to 2020
Currently, from July 1 2020, Parochial Vicar at Holy Faith Catholic Church
Contact: Fr. Anthony