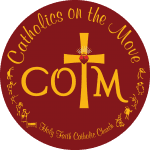 Keep Movin! ….. This is a Catholics on the Move Event!
Attend the Triduum
(The Three Most Holy Days) of the Liturgical Year.
Holy Thursday, April 18: Begin your evening by joining us for a simple "Soup and Sandwich" Supper beginning a 5:30pm, in the Parish Life Center and then join us to celebrate the "Mass of the Lord's Supper" in the Church at 7:00pm to begin your journey into Easter.
Good Friday, April 19: Join us for "Outdoor Stations of the Cross" at Noon (We begin and end inside the church.) The "Mass of the Lord's Passion with Veneration of the Cross" is at 7:00pm in the Church.
Holy Saturday, April 20: The Solemn Easter Vigil Celebrating the "Resurrection of the Lord" begins at 8:30pm.
Easter Sunday Mass Times: 7:00am (Sunrise Mass); 9:30am; 11:15am and 11:30am (overflow Mass in the Parish Life Center).
Happy Easter Blessings to all!