Deacon Michael Demers
Michael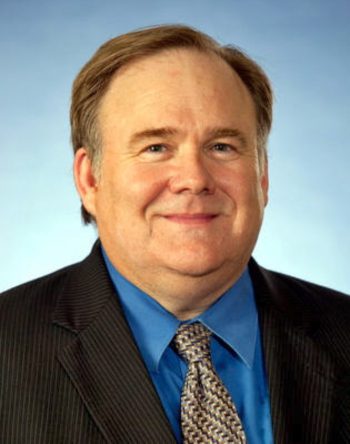 Demers, who was ordained a Permanent Deacon on June 18th, 2011, is now assigned to serve at Holy Faith.
Deacons are ordained ministers consecrated to the service of charity in the Church and to represent Christ the Servant of God. A major role of the Deacon is to serve the poor. Their duties also include preaching the Word of God, and assisting the priest or Bishop at the celebration of the sacraments, especially the Eucharist. They can bless marriages, preform Baptisms, preside over funerals outside of Mass, and impart blessings and bless religious articles.
Mike is the son of Bill who passed in 2015 and Nancy Demers who currently lives in DeLand, Florida.  Both Mike's parents were past parishioners of Holy Faith when they left for an extended stay back to Rhode Island and then relocated to Deland, FL to be near family.  Mike and his wife Pamela are currently raising two adopted children. Pamela also has a heart for service to others.
Mike has been a social worker for 30 years. He started his career by working in teenage shelters and homeless family shelters and eventually began assisting with disabilities rights advocacy. Mike writes: "Most of my career I have joyfully served people living with long-term and persistent mental illnesses and their families by establishing community support centre's called "clubhouses". A clubhouse is a day program where members (they are called "members" because it is a club, not a clinic) mutually help each other. Members and paid staff work together as a team to help acquire jobs, homes and to make new friends. If you would like to know more about the work Pam and I did for years you can go to:  (Clubhouse International) .
More recently Mike worked in fundraising development for the Bread of the Mighty Food Bank helping with raising funds and awareness for the many poor and food insecure in our area. Mike also spent years until recently as an advisor for the advocacy group DisAbilities Rights Florida and on the National Partnerships for DisAbilities Council for the United States Conference of Catholic Bishops.
Mike certainly has a heart for service. For many years he has been involved in various ministries such as working as a retreat director for marriage prep, family and young adult retreats. He has worked with the RCIA, Confirmation instruction, and the Cursillo movement. He served on the "Why Catholic" Team for our parish.
Deacon Mike's current responsibilities include helping to coordinate all volunteer ministries here at Holy Faith, overseeing the pastoral work of Outreach Eucharistic Ministers of Holy Communion, managing technology and Audio-Visual training and support.  Mike has also worked in prison ministry at the Union County Correctional Institute and some at the Alachua County Jail.  He is also the current representative for the diocesan Deacons in the greater Gainesville Deanery.
Mike says, "I feel called to be a deacon because of my belief in the ministry of service that a deacon is called to: to serve all in charity, live and proclaim the Word of God and represent at the altar a spirit of service, especially to those marginalized in our society."
"I love God and love and cherish my Catholic faith. I have worked as a layman in the field for Jesus for these many years and I feel God is asking me to make a new and more public commitment to His Church. For me, being a deacon is the most natural extension of who I am. I am grateful to serve as a deacon here at Holy Faith with such wonderful priests, parish staff, ministers and parishioners, in a dedicated faith community that has compassion as its mission!
Contact Deacon Michael Demers