Former Pastor, Rev.

Emmanuel Pazhayapurackal CMI, Retired
December 2019-January 2022 … Fr. Emmanuel has retired and has returned to his homeland of Kerala, India. He will be missed. He served Holy Faith for over 16 years, 13 years as our Associate Pastor working side-by-side with Fr. John Phillips, who passed away on October 20 2019.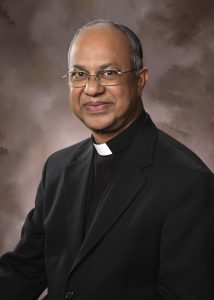 My Spiritual Journey:   "If you really seek God, enter."  This small sentence was written at the front door of the Novitiate house (where I got training prior to taking religious vows) where I entered more than 50 years ago.  I admit that I did not understand the real meaning of that short sentence at that time but I did enter the house.  My life thereafter has been a long search into the meaning and depth of that decision to seek God.
I was sixteen (going on seventeen) when I left my home, my parents, one sister and five brothers, to join the minor seminary. I come from a very traditional Catholic family where all my siblings, my parents, grandparents and great grandparents, to the best of my knowledge, were always Catholics.  After two years in Minor Seminary and two years in the Novitiate I did my 3 year Philosophy Course (Master in Philosophy) as a part of my  seminary studies.  Then I did my 2 year Master's degree course in English Literature (M.A.) and taught in a college for one year before I did my 4 year Theology course at the end of which I was ordained a Priest on December 20, 1975.  Along with the priestly ministries I studied for next two years and attained a Master's degree in Education (M.Ed.) and taught in a teacher's training college for about 6 years before I got my Ph.D. degree (in Educational Administration) from Fordham University, New York.
I am a member of the Congregation of Carmelites of Mary Immaculate (CMI), the first Indian indigenous religious congregation, founded by Saint Cyriac Chavara, in Kerala, India, in 1831.   It is within the Syro-Malabar Rite which is an East Syrian Rite.  Its members are known as St. Thomas Christians who traditionally believe that faith was brought to them by St. Thomas, an Apostle of Jesus Christ.  The CMI spirituality, rooted in the Indian, Oriental and Carmelite spiritual traditions, believes that the basic condition and the most effective means for evangelization is the vibrant witness of our evangelical life.  CMI spirituality, its vision and mission, could meaningfully be expressed in an icon of integration of intense prayer incessantly enriching our apostolic activities.
All through my priestly life of now 44 years, I spent most of the time in the ministry of teaching in three colleges in India, as teacher (15 years) and Principal (9 years).  Along with my teaching, I did pastoral ministry in a few parishes in India, St. John's Church, White Plains, New York (5 years), and at Holy Faith, Gainesville since May 2006 (13 years) and as of December 2019, Pastor of Holy Faith.
I praise and thank the divine providence which brought me to Holy Faith Parish.  I am grateful to Fr. John who took real interest in my coming here and has always been a great supporter and a good friend for me.  My loving gratitude and prayers to all parishioners for your encouragement and great love, making Holy Faith for me a home away from home.   May God bless you!
My email: Fr. Emmanunel
About CMI Congregation, see:  CMI